National Leaders of Education
NLEs are outstanding headteachers who, together with the staff in their schools (designated national support schools (NSS)), use their skills and experience to support schools in challenging circumstances.
In addition to leading their own schools, NLEs work to increase the leadership capacity of other schools to help raise standards.
Mike White (NLE)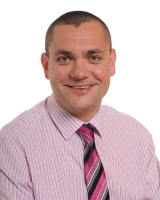 Mike is a Partnership School Lead Reviewer with a wide range of experience in supporting and collaborating with schools through his role as Executive Headteacher of Brompton-on-Swale and Crakehall CE Primary Schools and National Leader of Education.
Brompton-on-Swale CE Primary School has been judged by Ofsted to be Outstanding. It was awarded Teaching School status as well as National Support School status in the third cohort in 2013, and together with the Swaledale Alliance is dedicated to growing the teachers and education leaders of tomorrow.  Recently, the school was also awarded outstanding for its SIAMS (church school) inspection.
---
Local Leaders of Education
LLEs are successful headteachers with a proven track record of supporting other schools, and with the capacity to work alongside other heads to drive forward improvements and build capacity to ensure that improvements can be sustained.
Brenda Ford (was Higgins)
Brenda has been a Headteacher at Croft CE Primary in North Yorkshire for 16 years. She was a Consultant Head for 4 years, SIP for 6 years and has worked as a LLE and PP for 3 years. Her school has grown from 68 to 130+ and been graded Outstanding since 2001. She has an excellent understanding of small/er school issues.
She has coached acting/new headteachers on a range of issues in a variety of contexts, personalising support to be responsive to the situation.  Feedback on her approach and success is 100%!
---
National Leaders of Governance
National Leaders of Governance (NLG) are highly effective Chairs of Governors, who use their skills and experience to support Chairs of Governors in other schools and academies. They work to increase leadership capacity to help raise standards so that improvements can be sustained.